Client Portal - More Information
Your client portal powered by TaxDome

TaxDome is an intuitive software solution that helps ease the communication between us and our clients. Here's why:
Secure, intuitive client portal that is very user-friendly even to those who aren't tech-savvy.
Everything in one place, without going to multiple websites, all from the comfort of your mobile phone or computer!

Sign contracts/engagement letters,
Update contact information,
Complete organizers,
Electronically sign documents,
Pay invoices through ACH,
Secure exchange files and information for the safety of your personal data.
Secure messaging system (safer than texting), where we can request information we need from you or chat in real-time.

Improved communications with timely notifications and easy-to-read to-do lists.
Mobile friendly on your phone or tablets, so you can access it anytime, anywhere!
How to Start
Step 1. Activation Account
Open the invitation email and click on the ACTIVATE ACCOUNT link. Then create your password. Enter it twice to confirm, then click SUBMIT.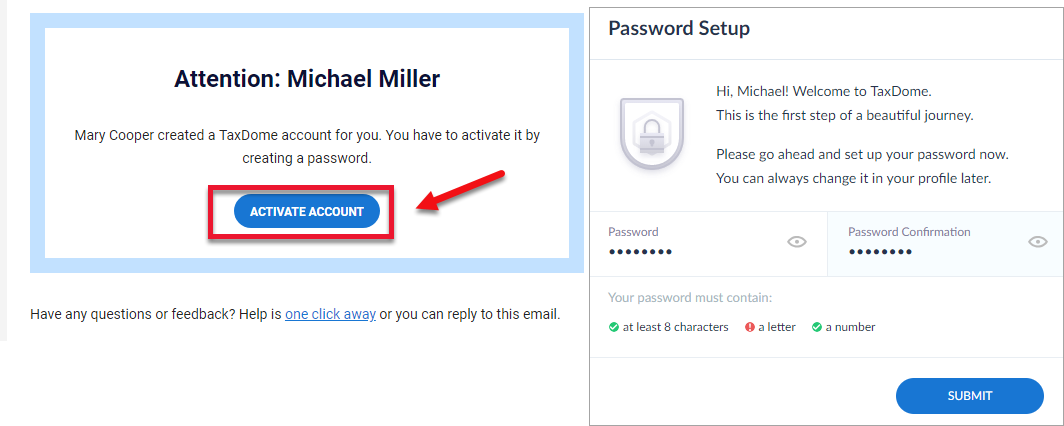 That's it! Now you can use your portal. To return to it in the future, you'll just need to sign in with your email and password you choose.
Can't find your ACTIVATE ACCOUNT email? First, please check your filtered folders (i.e. spam). If not found let us know and we'll resend.
Step 2. View To-Dos
The first page you see is your dashboard with notifications about important updates, such as unpaid bills, unseen messages, pending organizers, and unread documents. You'll also find the contact info for our firm here.
Step 3. Explore the Main Menu in the Left Sidebar
From the sidebar, you'll be able to easily go wherever you need to on your portal.
Documents is where you upload your documents, e-sign, and download whatever we've prepared for you.
Messages is where you can ask us any questions or respond to any of our requests.
Organizers is where you fill out any necessary questionnaires needed for us to prepare your documents.
Contracts is where you e-sign custom engagement letters that are used to define the scope of engagement between us.
Bills and Payments is where you pay bills for our services and review payments.
Settings is where you add additional users to your account if needed.
Login Hint
If accessing via web, go to https://youngfta.taxdome.com/login
It is important to have "youngfta" typed followed with a "." then "taxdome.com" to ensure correct access
Mobile or Handheld Devices, Download the App
Go to https://client-help.taxdome.com/article/61-installling-mobile-app-for-android-ios
Need More Help?

Call us or check out these other online instructions